Africa Scientist and University Medical and Health Sciences / Pharmacy & Pharmaceutical Sciences Rankings 2022
https://www.adscientificindex.com/?subject=Medical+and+Health+Sciences+%2F+Pharmacy+%26+Pharmaceutical+Sciences&q=alexandria+university&con=Africa
Africa Scientist and University Rankings 2022
https://www.adscientificindex.com/?con=Africa&tit=&q=alexandria+university
Distinguished Projects
1-Program:
Erasmus+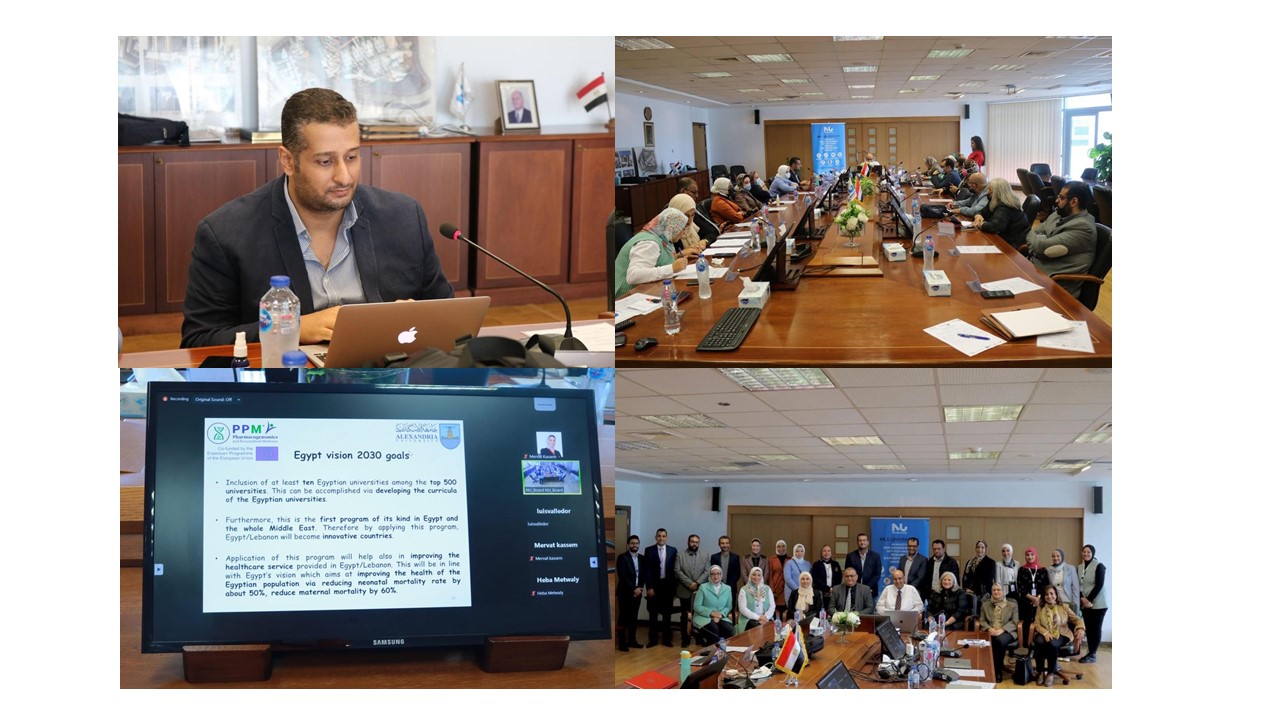 Online pharmacogenomics and personalized medicine postgraduate program
6 Participating countries
Start: 15-11-2021 - End: 14-11-2024
Project Reference: 617303-EPP-1-2020-1-EG-EPPKA2-CBHE-JP
EU Grant: 998210 EUR
Key Action: Cooperation for innovation and the exchange of good practices
Action Type: Capacity Building in higher education
Summary:
Towards the end of the last century the expression of 'personalised medicine' has come to life. This simply means the right drug for the right patient with the right dose. We all now understand that the difference between any individuals regarding their DNA sequence is only about 0.1%. In spite of the fact that this is really a tiny figure, it is enough to lead to important effects on disease susceptibility and progression. Although the healthcare community in Egypt and Lebanon has identified the need for academic educational programs on pharmacogenomics and personalised medicine, yet there has been no appreciable effort done in either country so far to fill this gap. Even the awareness of such programs is low. There exists no higher educational degree for pharmacogenomics in Egypt or Lebanon. Thus, there is a pressing need to implement this personalized medicine educational program in core training of pharmacists and physicians in the region. Moreover, there are very few programs in Egypt or Lebanon that make use of online education using IT and e-laboratories. This kind of smart learning programs facilitate the education process and make it suitable for the greatest numbers of target groups outside the Egyptian and Lebanese borders. Identification of the proper drugs for specific patient phenotypes will heighten the drug efficacy, lessen expected adverse outcomes, increase cost effectiveness and elevate public confidence in marketed pharmaceuticals. According to the world bank records (2018), Egypt is a lower middle income country with gross domestic product of 1.201 trillion dollars, whereas Lebanon is considered an upper middle income country. Therefore, the support from the CBHE is essential as the design and implementation of this diploma/master program will require a huge fund which is unavailable in Egypt and Lebanon, being developed countries.   
Results
Results for this project are not yet available. They might become available after the project's end date.
Coordinator ( Principal Investigator ) :
ALEXANDRIA UNIVERSITY
Prof. Ahmed Wahid (PI)
Prof. Sahar El Gowilly
Dr. Heba Metwally
Dr. Salwa Abu Rageh
Nehal Mansouri
Amany Souror
Organisation type:
Higher education institution (tertiary level)
Partners
NILE UNIVERSITY
FAYOUM UNIVERSITY
UNIVERSIDAD DE OVIEDO
MINISTRY OF COMMUNICATIONS & INFORMATION TECHNOLOGY
AL ALFI FOUNDATION FOR HUMAN AND SOCIAL DEVELOPMENT
UNIVERSITY OF NEWCASTLE UPON TYNE
CHRISTIAN-ALBRECHTS-UNIVERSITAET ZU KIEL
DIMOKRITIO PANEPISTIMIO THRAKIS
AMERICAN UNIVERSITY OF BEIRUT
BEIRUT ARAB UNIVERSITY
CHILDREN'S CANCER HOSPITAL FOUNDATION 57357
2-List of projects :
List of publications
January 2021 – March 2022
El-Sheridy NA, El-Moslemany RM, Ramadan AA, Helmy MW, El-Khordagui LK. Enhancing the in vitro and in vivo activity of itraconazole against breast cancer using miltefosine-modified lipid nanocapsules. Drug Delivery. 2021 Jan 1;28(1):906-19.
Bahey-El-Din M, Younes M, Zaghloul T. Detection of Mycobacterium tuberculosis Serum Biomarkers and the Relation with Previous BCG Vaccination. Journal of Advanced Pharmacy Research. 2021 Jan 1;5(1):241-7.
Albelwi FF, Teleb M, Abu-Serie MM, Moaty MN, Alsubaie MS, Zakaria MA, El Kilany Y, Aouad MR, Hagar M, Rezki N. Halting Tumor Progression via Novel Non-Hydroxamate Triazole-Based Mannich Bases MMP-2/9 Inhibitors; Design, Microwave-Assisted Synthesis, and Biological Evaluation. International journal of molecular sciences. 2021 Jan;22(19):10324
Darwish RS, Shawky E, El Naggar EM, Hammoda HM, Harraz FM. Evaluation of the effect of seasonal variation and organ selection on the chemical composition and antimicrobial activity of the essential oil of oriental-cedar (Platyclaudus orientalis (L.) Franco). Journal of Essential Oil Research. 2021 Jan 2;33(1):69-79.
Wen MM, Ismail NI, Nasra MM, El-Kamel AH. Repurposing ibuprofen-loaded microemulsion for the management of Alzheimer's disease: evidence of potential intranasal brain targeting. Drug Delivery. 2021 Jan 1;28(1):1188-203.
Elzahhar PA, Alaaeddine RA, Nassra R, Ismail A, Labib HF, Temraz MG, Belal AS, El-Yazbi AF. Challenging inflammatory process at molecular, cellular and in vivo levels via some new pyrazolyl thiazolones. Journal of enzyme inhibition and medicinal chemistry. 2021 Jan 1;36(1):669-84.
Othman EM, Bekhit AA, Anany MA, Dandekar T, Ragab HM, Wahid A. Design, Synthesis, and Anticancer Screening for Repurposed Pyrazolo [3, 4-d] pyrimidine Derivatives on Four Mammalian Cancer Cell Lines. Molecules. 2021 Jan;26(10):2961.
Nafee N, Ameen AE, Abdallah OY. Patient-Friendly, olfactory-targeted, stimuli-responsive hydrogels for cerebral degenerative disorders ensured> 400% brain targeting efficiency in rats. AAPS PharmSciTech. 2021 Jan;22(1):1-8.
H Elwakil B, Shaaban MM, Bekhit AA, El-Naggar MY, Olama ZA. Potential anti-COVID-19 activity of Egyptian propolis using computational modeling. Future Virology. 2021 Feb;16(2):107-16.
Alseqely M, Newton-Foot M, Khalil A, El-Nakeeb M, Whitelaw A, Abouelfetouh A. Association between fluoroquinolone resistance and MRSA genotype in Alexandria, Egypt. Scientific reports. 2021 Feb 19;11(1):1-9.
Etman SM, Mehanna RA, Bary AA, Elnaggar YS, Abdallah OY. Undaria pinnatifida fucoidan nanoparticles loaded with quinacrine attenuate growth and metastasis of pancreatic cancer. International Journal of Biological Macromolecules. 2021 Feb 15;170:284-97
El-Habashy SE, Eltaher HM, Gaballah A, Zaki EI, Mehanna RA, El-Kamel AH. Hybrid bioactive hydroxyapatite/polycaprolactone nanoparticles for enhanced osteogenesis. Materials Science and Engineering: C. 2021 Feb 1;119:111599.
Eldesouky LM, El-Moslemany RM, Ramadan AA, Morsi MH, Khalafallah NM. Cyclosporine lipid nanocapsules as thermoresponsive gel for dry eye management: promising corneal mucoadhesion, biodistribution and preclinical efficacy in rabbits. Pharmaceutics. 2021 Mar;13(3):360.
Shawky E, El Sohafy SM, de Andrade JP, de Souza Borges W. Profiling of acetylcholinesterase inhibitory alkaloids from some Crinum, Habranthus and Zephyranthes species by GC–MS combined with multivariate analyses and in silico studies. Natural Product Research. 2021 Mar 4;35(5):807-14.
Ghazy RM, Tahoun MM, Abdo SM, El-Badry AA, Hamdy NA. Evaluation of praziquantel effectivenss after decades of prolonged use in an endemic area in Egypt. Acta Parasitologica. 2021 Mar;66(1):81-90.
Elonsy SM, El Yazbi FA, Shaalan RA, Ahmed HM, Belal TS. Application of MEKC and UPLC with fluorescence detection for simultaneous determination of amlodipine besylate and bisoprolol fumarate. Journal of AOAC International. 2021 Mar;104(2):339-47.
Bebawy G, Sokar M, Abdallaha OY. Novel risperidone orally disintegrating minitablets for pediatric use: patient acceptance and dose adjustment. Drug Development and Industrial Pharmacy. 2021 Apr 3;47(4):542-51.
Sallam MY, El-Gowilly SM, El-Mas MM. Androgenic modulation of arterial baroreceptor dysfunction and neuroinflammation in endotoxic male rats. Brain Research. 2021 Apr 1;1756:147330
Atya ME, El-Hawiet A, Alyeldeen MA, Ghareeb DA, Abdel-Daim MM, El-Sadek MM. In vitro biological activities and in vivo hepatoprotective role of brown algae-isolated fucoidans. Environmental Science and Pollution Research. 2021 Apr;28(16):19664-76.
Alaaeddine RA, Elzahhar PA, AlZaim I, Abou-Kheir W, Belal AS, El-Yazbi AF. The emerging role of COX-2, 15-LOX and PPARγ in metabolic diseases and cancer: An introduction to novel multi-target directed ligands (MTDLs). Current Medicinal Chemistry. 2021 Apr 1;28(11):2260-300.
Zakaria AS, Edward EA, Mohamed NM. Genomic insights into a colistin-resistant uropathogenic Escherichia coli strain of O23: H4-ST641 lineage harboring mcr-1.1 on a conjugative IncHI2 plasmid from Egypt. Microorganisms. 2021 Apr;9(4):799.
Omar AM, AboulWafa OM, Amr ME, El-Shoukrofy MS. Antiproliferative activity, enzymatic inhibition and apoptosis-promoting effects of benzoxazole-based hybrids on human breast cancer cells. Bioorganic Chemistry. 2021 Apr 1;109:104752
Abuiessa S, Helmy M, El-Gowilly S, El-Mas M. Gestationally Administered RAS Modulators Reprogram Endotoxic Cardiovascular and Inflammatory Profiles in Adult Offspring of Preeclamptic Rats. The FASEB Journal. 2021 May 1;35.
Abuiessa S, Helmy M, El-Gowilly S, El-Mas M. Dysregulated ACE/Ang II And ACE2/Ang 1-7 Signalling Provokes Cardiovascular and Neuroinflammatory Outcomes of Endotoxemia in Weaning Preeclamptic Rats. The FASEB Journal. 2021 May 1;35.
Wedn A, Abuiessa S, El-Gowilly S, El-Mas M. Maternal and Fetal Defects of Gestational Angiotensin 1-7 Receptor Antagonism: A Possible Preclinical Model of Preeclampsia. The FASEB Journal. 2021 May 1;35.
Morgaan H, El-Gowilly S, El-Mas M. Preeclamptic Programming Unevenly Modifies Hemodynamic and Renovascular Outcomes of Endotoxemia in Rat Offspring: Modulation by Sex and Antenatal Therapies. The FASEB Journal. 2021 May 1;35.
Nasser SA, Afify EA, Kobeissy F, Hamam B, Eid AH, El-Mas MM. Inflammatory basis of atherosclerosis: Modulation by sex hormones. Current Pharmaceutical Design. 2021 May 1;27(18):2099-111.
Sallam MY, El-Gowilly SM, El-Mas MM. Cardiac and brainstem neuroinflammatory pathways account for androgenic incitement of cardiovascular and autonomic manifestations in endotoxic male rats. Journal of Cardiovascular Pharmacology. 2021 May 1;77(5):632-41.
El-Haggar M, El-Hosseiny L, Ghazy NM, El-Fiky FK, El-Hawiet A. Phytochemical investigation, antimicrobial and cytotoxic activities of suspension cultures of Lepidium sativum L. South African Journal of Botany. 2021 May 1;138:500-5.
El-Yazbi AF, Khalifa Y, Elkhatib MA, El-Yazbi AF. Green analytical method for the determination of sofosbuvir, ledipasvir, ribavirin and complex silymarin flavonoids simultaneously in biological fluids. Microchemical Journal. 2021 May 1;164:105964
El-Kafrawy DS, Abdelhamid AG, Abdel-Khalek MM, Belal TS. Development and greenness assessment of a stability-indicating HPLC-DAD method for simultaneous determination of allopurinol and benzbromarone. Drug Development and Industrial Pharmacy. 2021 Jun 3;47(6):887-96.
Ebada HM, Nasra M, Elnaggar YS, Abdallah OY. Novel rhein–phospholipid complex targeting skin diseases: development, in vitro, ex vivo, and in vivo studies. Drug delivery and translational research. 2021 Jun;11(3):1107-18.
Zakaria AS, Kassem MA, El Far MS, Edward EA. Characterization, in-vitro evaluation of probiotic potential and antagonistic activity of selected lactic acid bacteria strains isolated from natural origin against some human pathogens. Bulletin of Pharmaceutical Sciences. Assiut. 2021 Jun 1;44(1):225-41.
Ebada HM, Nasra MM, Elnaggar YS, Nassra RA, Solaiman AA, Abdallah OY. Novel rhein integrate transphytosomes as non-invasive local therapy for osteoarthritis to ameliorate cartilage deterioration in MIA-arthritic rats. Colloids and Surfaces B: Biointerfaces. 2021 Jun 1;202:111713.
Makled S, Boraie N, Nafee N. Nanoparticle-mediated macrophage targeting—a new inhalation therapy tackling tuberculosis. Drug Delivery and Translational Research. 2021 Jun;11(3):1037-55.
ElShazly IY, Morsy MH, Bekhit AA, Ramadan AA, Mossallam EF. Topical cyclosporine A for the treatment of dry eye: a randomized clinical study. Delta Journal of Ophthalmology. 2021 Jul 1;22(3):165.
Bakr IS, Zaki AM, El‐Moslemany RM, Elsaka RO. Vitamin D oral gel for prevention of radiation‐induced oral mucositis: A randomized clinical trial. Oral Diseases. 2021 Jul;27(5):1197-204.
Fathy HM, Ibrahim RS, El-Hawiet A, Omar AA. Chemical Constituents of Date Palm (Phoenix dactylifera L.) Fruit-Free Bunches and Their Biological Activities. Pharmaceutical Chemistry Journal. 2021 Jul;55(4):384-91.
AbdElhamid AS, Zayed DG, Heikal L, Khattab SN, Mady OY, El-Gizawy SA, Elzoghby AO. Recent advances in polymer shell oily-core nanocapsules for drug-delivery applications. Nanomedicine. 2021 Aug;16(18):1613-25.
Labouta HI, Hooshmand N, Upreti T, El-Sayed MA. Localized plasmonic photothermal therapy as a life-saving treatment paradigm for hospitalized COVID-19 patients. Plasmonics. 2021 Aug;16(4):1029-33.
Eldin SM, Shawky E, Sallam SM, El-Nikhely N, El Sohafy SM. Metabolomics approach provides new insights into the immunomodulatory discriminatory biomarkers of the herbs and roots of Echinacea species. Industrial Crops and Products. 2021 Sep 15;168:113611.
Youssef JR, Boraie NA, Ibrahim HF, Ismail FA, El-Moslemany RM. Glibenclamide Nanocrystal-Loaded Bioactive Polymeric Scaffolds for Skin Regeneration: In Vitro Characterization and Preclinical Evaluation. Pharmaceutics. 2021 Sep;13(9):1469.
Sheir MM, Nasra MM, Abdallah OY. Chitosan alginate nanoparticles as a platform for the treatment of diabetic and non-diabetic pressure ulcers: Formulation and in vitro/in vivo evaluation. International Journal of Pharmaceutics. 2021 Sep 25;607:120963
Hafez DA, Hassanin IA, Teleb M, Khattab SN, Elkhodairy KA, Elzoghby AO. Recent advances in nanomedicine-based delivery of histone deacetylase inhibitors for cancer therapy. Nanomedicine. 2021 Oct;16(25):2305-25.
Darwish RS, Shawky E, Nassar KM, ElSayed RM, Hussein DE, Ghareeb DA, El Sohafy SM. Differential anti-inflammatory biomarkers of the desert truffles Terfezia claveryi and Tirmania nivea revealed via UPLC-QqQ-MS-based metabolomics combined to chemometrics. LWT. 2021 Oct 1;150:111965.
Elsheikh MA, Rizk SA, Elnaggar YS, Abdallah OY. Nanoemulsomes for Enhanced Oral Bioavailability of the Anticancer Phytochemical Andrographolide: Characterization and Pharmacokinetics. AAPS PharmSciTech. 2021 Oct;22(7):1-2.
El-Miligy MM, Al-Kubeisi AK, El-Zemity SR, Nassra RA, Abu-Serie MM, Hazzaa AA. Discovery of small molecule acting as multitarget inhibitor of colorectal cancer by simultaneous blocking of the key COX-2, 5-LOX and PIM-1 kinase enzymes. Bioorganic Chemistry. 2021 Oct 1;115:105171.
El-Yazbi AF, Aboukhalil FM, Khamis EF, Youssef RM, El-Sayed MA. Greenness assessment of a stability indicating simple inexpensive high-performance thin-layer chromatography–dual wavelength method for simultaneous determination of mometasone furoate and salicylic acid in complex matrix using analytical eco-scale. JPC–Journal of Planar Chromatography–Modern TLC. 2021 Oct;34(5):455-66.
AboulWafa OM, Daabees HM, Hammad A, Badawi WA. New functionalized 6‐thienylpyrimidine‐5‐carbonitriles as antiproliferative agents against human breast cancer cells. Archiv der Pharmazie. 2021 Nov;354(11):2100177.
Darwish RS, Hammoda HM, Ghareeb DA, Abdelhamid AS, Harraz FM, Shawky E. Chemical profiling and identification of anti-inflammatory biomarkers of oriental Thuja (Platycladus orientalis) using UPLC/MS/MS and network pharmacology-based analyses. Natural Product Research. 2021 Nov 23:1-5.
Darwish RS, Shawky E, Hammoda HM, Harraz FM. Peroxidase inhibitory and antioxidant constituents from Juniperus L. species guided by HPTLC-bioautography and molecular docking studies. Natural Product Research. 2021 Nov 18;35(22):4653-7.
Khattab AR, Teleb M, Kamel MS. In silico study of potential anti-SARS cell entry phytoligands from Phlomis aurea: a promising avenue for prophylaxis. Future Virology. 2021 Nov;16(11):761-75.
Abuiessa SA, El-Gowilly SM, El-Gowelli HM, Helmy MM, El-Mas MM. Short-lived sensitization of cardiovascular outcomes of postpartum endotoxemia in preeclamptic rats: Role of medullary solitary tract neuroinflammation. European Journal of Pharmacology. 2021 Nov 5;910:174494.
Khalil HH, Osman HA, Teleb M, Darwish AI, Abu‐Serie MM, Khattab SN, Haiba NS. Engineered s‐Triazine‐Based Dendrimer‐Honokiol Conjugates as Targeted MMP‐2/9 Inhibitors for Halting Hepatocellular Carcinoma. ChemMedChem. 2021 Dec 14;16(24):3701-19.
Abdallah RM, Hammoda HM, Radwan MM, El-Gazzar NS, Wanas AS, ElSohly MA, El-Demellawy MA, Abdel-Rahman NM, Sallam SM. Phytochemical and pharmacological appraisal of the aerial parts of Lotus corniculatus L. growing in Egypt. Natural Product Research. 2021 Dec 17;35(24):5914-7.
El Sohafy SM, Shawky E, Sallam SM. Effect of ontogeny on the content of the hallucinogenic alkaloids atropine and scopolamine in the different organs of some Solanaceae plants. Natural Product Research. 2021 Dec 17;35(24):5894-8.
Ebada HM, Nasra MM, Nassra RA, Abdallah OY. Chondroitin sulfate-functionalized lipid nanoreservoirs: a novel cartilage-targeting approach for intra-articular delivery of cassic acid for osteoarthritis treatment. Drug delivery. 2021 Dec 31;29(1):652-63.
Gaber DM, Nafee N, Abdallah OY. Inhalable nano-embedded microspheres as an emerging way for local treatment of lung carcinoma: Benefits, Methods of preparation & characterizaton. Editorial Committee. 2021 Dec:7.
Mahrous R, EL-Khair RA, Ibrahim R, Omar A. Investigation of the effect of selected edible and medicinal plants on in-vitro blood coagulation profile. Kuwait Journal of Science. 2021 Dec 14.
AboulWafa OM, Daabees HM, Ezz-ElDien ES. Design, synthesis of novel quinazolinone-based oxobutanonitrile derivatives as antiproliferative agents targeting human breast cancer. Anti-cancer Agents in Medicinal Chemistry. 2021 Dec 13
Senbel A. Re-enforcing Bridges between Different Medical Research Fields. Advances in Medical, Pharmaceutical and Dental Research. 2021 Dec 30;1(1):1-2.
Taalab MR, Mahmoud SA, Moslemany RM, Abdelaziz DM. Intrapocket application of tea tree oil gel in the treatment of stage 2 periodontitis. BMC Oral Health. 2021 Dec;21(1):1-0.
Ghazy RM, Tahoun MM, Abdo SM, El-Badry AA, Hamdy NA. Evaluation of praziquantel effectivenss after decades of prolonged use in an endemic area in Egypt. Acta Parasitologica. 2021 Mar;66(1):81-90.
Aboras SI, Korany MA, Abdine HH, Ragab MA, El Diwany A, Agwa MM. HPLC with fluorescence detection for the bioanalysis and pharmacokinetic study of Doxorubicin and Prodigiosin loaded on eco-friendly casein nanomicelles in rat plasma. Journal of Chromatography B. 2021 Dec 15;1187:123043.
Zewail M, Nafee N, Helmy MW, Boraie N. Synergistic and receptor-mediated targeting of arthritic joints via intra-articular injectable smart hydrogels containing leflunomide-loaded lipid nanocarriers. Drug Delivery and Translational Research. 2021 Dec;11(6):2496-519.
El-Yazbi AF, Elashkar NE, Abdel-Hay KM, Ahmed HM, Talaat W. Eco-friendly analytical methods for the determination of compounds with disparate spectral overlapping: application to antiviral formulation of sofosbuvir and velpatasvir. Journal of Analytical Science and Technology. 2021 Dec;12(1):1-9.
Bekhit AA, Nasralla SN, El-Agroudy EJ, Hamouda N, Abd El-Fattah A, Bekhit SA, Amagase K, Ibrahim TM. Investigation of the anti-inflammatory and analgesic activities of promising pyrazole derivative. European Journal of Pharmaceutical Sciences. 2022 Jan 1;168:106080.
Taalab MR, Makled S, Elkhordagui L, Tantawy M, Farid S. Nitazoxanide as a new local adjunctive to nonsurgical treatment of stage II periodontitis: Clinical and Biochemical evaluation. Egyptian Dental Journal. 2022 Jan 1;68(1):457-66.
El-Sheridy NA, El-Moslemany RM, Ramadan AA, Helmy MW, El-Khordagui LK. Itraconazole for Topical Treatment of Skin Carcinogenesis: Efficacy Enhancement by Lipid Nanocapsule Formulations. Journal of Biomedical Nanotechnology. 2022 Jan 1;18(1):97-111.
Mahgoub YA, Shawky E, Eldakak M, Bahey-El-Din M, Darwish FA, El Sebakhy NA, El-Hawiet A. Plant DNA barcoding and metabolomics for comprehensive discrimination of German Chamomile from its poisonous adulterants for food safety. Food Control. 2022 Jan 19:108840
Mohamed HI, El-Kamel AH, Hammad GO, Heikal LA. Design of Targeted Flurbiprofen Biomimetic Nanoparticles for Management of Arthritis: In Vitro and In Vivo Appraisal. Pharmaceutics. 2022 Jan;14(1):140.
Taha SS, Daabees TT, Aly RG, Senbel AM. Lead acetate versus cadmium sulfate in the modulation of main physiological pathways controlling detrusor muscle contractility in rat. Saudi Pharmaceutical Journal. 2022 Jan 24
Ghallab DS, Shawky E, Metwally AM, Celik I, Ibrahim RS, Mohyeldin MM. Integrated in silico–in vitro strategy for the discovery of potential xanthine oxidase inhibitors from Egyptian propolis and their synergistic effect with allopurinol and febuxostat. RSC Advances. 2022;12(5):2843-72
Abouelfetouh A, Mattock J, Turner D, Li E, Evans BA. Diversity of carbapenem-resistant Acinetobacter baumannii and bacteriophage-mediated spread of the Oxa23 carbapenemase. Microbial Genomics. 2022 Feb 1;8(2):000752.
Abouelfetouh A. Team science: the power of Us. (IJRE) International Journal of Research and Ethics (ISSN 2665-7481). 2022 Feb 1;5(1).
Darwish RS, Fares MA, Hammoda HM, Yassin AM, Ghareeb DA, Harraz FM, Shawky E. Comparative metabolomics applied for valorization of Mesquite (Prosopis juliflora (Sw. DC.) by-products as potential source of anti-inflammatory functional constituents. Industrial Crops and Products. 2022 Feb 1;176:114344.
Ghazy RM, Ashmawy R, Hamdy NA, Elhadi YA, Reyad OA, Elmalawany D, Almaghraby A, Shaaban R, Taha SH. Efficacy and Effectiveness of SARS-CoV-2 Vaccines: A Systematic Review and Meta-Analysis. Vaccines. 2022 Feb 23;10(3):350.
Khallaf AM, El-Moslemany RM, Ahmed MF, Morsi MH, Khalafallah NM. Exploring a Novel Fasudil-Phospholipid Complex Formulated as Liposomal Thermosensitive in situ Gel for Glaucoma. International journal of nanomedicine. 2022;17:163.
Hafez DA, Abdelmonsif DA, Aly RG, Samy WM, Elkhodairy KA, Aasy NK. Role of fennel oil/quercetin dual nano-phytopharmaceuticals in hampering liver fibrosis: Comprehensive optimization and in vivo assessment. Journal of Drug Delivery Science and Technology. 2022 Mar 1;69:103177.
Abouheif SA, Sallam SM, El Sohafy SM, Kassem FF, Shawky E. Optimization of terpene lactones and ginkgolic acids extraction from Ginkgo biloba L. leaves by natural deep eutectic solvents using experimental design and HPTLC-MS analysis. Microchemical Journal. 2022 May 1;176:107246.
El-Yazbi AF, Guirguis KM, Bedair MM, Belal TS. Simultaneous Quantitation of Paracetamol and Lornoxicam in Presence of Five Related Substances and Toxic Impurities by a Selective HPLC-DAD Method. Jl.

Publications 2019-2020 Publications 2019-2020